GREATER ORLANDO BUILDERS ASSOCIATION HELPS WORKFORCE DEVELOPMENT ISSUES WITH NEW COMMITTEE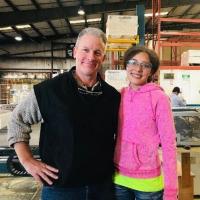 February 08, 2021
The Greater Orlando Builder Association (GOBA) is identifying the lack of skilled professionals in the residential construction workforce through initiatives with education and awareness spearheaded by the Workforce Development Committee.
The Workforce Committee is chaired by GOBA President Rick Caccavello of Central Kitchen and Bath and co-chaired by John Mancini of James Hardie. Other committee members include Ron Bachman of Total Care Orlando, Dana Gravett of ODC Construction, Jacqueline Boykin of Quality Labor Management, Ross Bitterling of Builders First Source, Tony Hartsgrove of ODC Construction, John Holt of Solar-Tite Windows and Doors, Thad Lynch of Meritage Homes, Wes Robbins of Quick Tie Products, Andy Stilfield of M/I Homes, Janeen Swanson of Weathermaster Building Products, Kris Williams of American Builders Supply and John Riddle of Turning Leaf Construction.
The committee is working to provide an outlet for workforce training programs to connect with members of GOBA in order to provide employment opportunities for skilled-profession graduates.
Chairman Rick Caccavello is a strong supporter of educating the future of the construction industry and has made the Workforce Committee one of his top priorities as 2021 GOBA President.
"When I was installed as president, I vowed to lead the efforts in identifying the need for skilled labor in construction for the homebuilding industry. This committee will focus on awareness, mentorship, placement and partnership. I challenge all GOBA members to work alongside this workforce initiative to ensure that the homebuilding industry remains essential and a leader of the economic recovery," Rick Caccavello said.
Currently, GOBA partners with Valencia College's Construction Accelerated Skills Program, created the first Future Builders of America (FBA) chapter in Central Florida with the Homebuilders Institute (HBI), and CEO Chassity Vega serves as an Advisor to the Building Talent Foundation. Additionally, the GOBA Foundation awards annual scholarships to students in the fields of construction at the University of Florida and Valencia College.
Committee member Ross Bitterling of Builders First Source recently hired a student from the Home Builders Institute, Sarah, who says that her experience through HBI was an empowering one.
"I now have the confidence to continue my career at Builders First Source building doors by taking what I have learned from HBI and applying it to my everyday life," Sarah said.